Welcome to Our Blog
Stay up to date with the latest news and information from Werkman, Boven & Associates. We also send out newsletters periodically. Subscribe to receive these and view previous issues,
here
.
Posted on Wednesday, February 13th, 2019
Focus on your feet during the month of love and show them how much you care! At Werkman, Boven & Associates, Chiropody is our sole focus!
7 Ways to Put Your Best Feet Forward:
Take care of your feet – and they'll take care of you! Talk to your Chiropodist about optimal foot health today. Meet the team at Werkman, Boven & Associates in Oakville today and experience caring hands for happy feet!
Posted on Wednesday, January 30th, 2019
How to Keep Your Feet Healthy in Cold Weather.
Cold weather (like today) can make it difficult for you to know when your feet are too cold, especially if you have a condition like poor circulation or diabetes.
Prevent Winter Foot Problems From the Get -Go
The first thing you can do to give winter the cold shoulder is to be sure you are keeping your feet covered and warm when you are outdoors. Wear comfortable and warm socks and boots. Keep your feet dry with sweat-wicking socks and moisture resistant footwear.
When you get home:
Don't rush to heat your feet
Don't dip your feet in a warm foot bath
Don't use a heating pad or heated blanket
Don't try to warm your feet by placing them close to a fireplace.
Let your feet warm up naturally, a little at a time. Try gently massaging your feet or walking around to encourage blood flow.
Watch for Chilblains!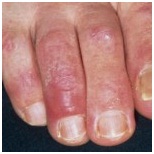 Chilblains are a common cold weather foot problem. Chilblains are small, red, itchy swellings on the skin. They are caused when the skin is exposed to cold weather for long periods of time.
How Chilblains Happen
In the cold, the blood vessels in your toes get smaller in size. When your toes get warm again, the blood vessels go back to their normal size. If your toes get warm too fast, blood can leak out of the blood vessels and cause the redness, swelling, blistering, and pain associated with chilblains. Chilblains usually form on the smaller toes, but they can also develop on areas of the feet that carry more pressure — the same areas where bunions, corns, and calluses form.
An Ounce of Prevention is Worth a Pound of Cure. Book your Winter Footcare Check up today! We offer:
For more information on preventative winter footcare, contact our Oakville Foot Clinic today! We're a friendly bunch!
Posted on Monday, January 28th, 2019
Are You Concerned About Infections Due to Improper Sterilization?
At Werkman, Boven & Associates, we take infection prevention and control very seriously. We are committed to following the best practices laid out by PIDAC (Provincial Infectious Disease Advisory Committee), part of Public Health Ontario. Our employees are trained in infection prevention and proper sterilization methods. You can rest assured that all instruments used in our treatment rooms have undergone proper sterilization and follow Public Health Ontario guidelines.
Our newest employee, Kaitlyn, recently completed her 9 module training course in IPAC Sterilizatio
n (Infection Prevention and Control Canada).
This past month, we conducted a refresher on-site training session, reviewing proper sterilization protocols and procedures. A third-party sterilization audit by STERIS Canada was also conducted and we passed with flying colours!
Why risk an infection due to improper sterilization? Book your Medical Pedicure appointment today with our clinic and ensure your feet stay healthy!
Newsletter Sign-up

Categories

Recent posts

Archives

Search
Book an appointment:
Online
or Call (905) 845-4817