Therapeutic Footwear
Comfortable, supportive, well fitting footwear can make all the difference.
We carry a wide variety of orthopaedic and therapeutic footwear by Biotime, Drew, Portofino, and Brooks.
All of our footwear is geared to helping our patients achieve their foot health goals. Have a question about which footwear is right for you? Let's continue the conversation!
Runners
We proudly carry Brooks footwear.
Brooks is committed to advancing the performance, durability and comfort of its footwear, apparel and accessories in every category. With a 150 year heritage of innovation in golf, running, basketball, tennis and performance walking footwear, Brooks offers the highest standards of performance and style.
Sandals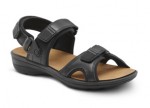 We carry several lines of functional and attractive sandals that have removable foot-beds. That means sandal lovers are able to continue wearing their orthotics, and enjoying the comfort and correction they provide, all summer long.
We carry, Biotime, Drew, Dr.Comfort, Portofino who all have removable foot-beds.
Current Week's Clinic Hours

Day
Open
Close
Monday
8:00 A.M.
4:00 P.M.
Tuesday
8:00 A.M.
6:00 P.M.
Wednesday
8:00 A.M.
8:00 P.M.
Thursday
8:00 A.M.
4:00 P.M.
Friday
8:00 A.M.
12:00 P.M.
Saturday
Closed
Sunday
Closed

Recent blog posts

Request an appointment
Book an appointment:
Online
or Call (905) 845-4817